Cosmology and astrophysics address some of the most fundamental and universally fascinating questions in the whole of science: Where did the Universe come from? What is it made of? What will its ultimate fate be? The study of the Universe is inspiring, humbling and in short one of the greatest scientific challenges of humankind.
But by its nature the cosmos is also far removed from our everyday experience. This is part of its mystery and fascination, but it can also become a hurdle when trying to engage the public in a genuine, two-way dialogue. The Hands-On Universe is a public engagement programme to create and deliver innovative methods of connecting the public with our cosmic environment, and with cutting-edge research in astrophysics.
The Hands-on Universe endeavours to reinterpret and understand the big questions in cosmology and astrophysics in terms of our everyday experiences, metaphorically, conceptually, artistically and emotionally. What is the Universe made of? How did it begin? How will it end? What is the nature of reality? How does science work? Award-winning astrophysicist and science communicator Dr Roberto Trotta creates immersive, participative experiences by using do-it-yourself activities, cookery and other fun, unexpected ways of engaging with the great mysteries of the cosmos.
The Hands-on Universe is a programme of outreach and public engagement activities that was sponsored by a Public Engagement Fellowship awarded by STFC (The Science and Technology Facilities Council UK), 2013-2017. The programme was long listed for the National Co-ordinating Centre for Public Engagement Engage Awards 2016.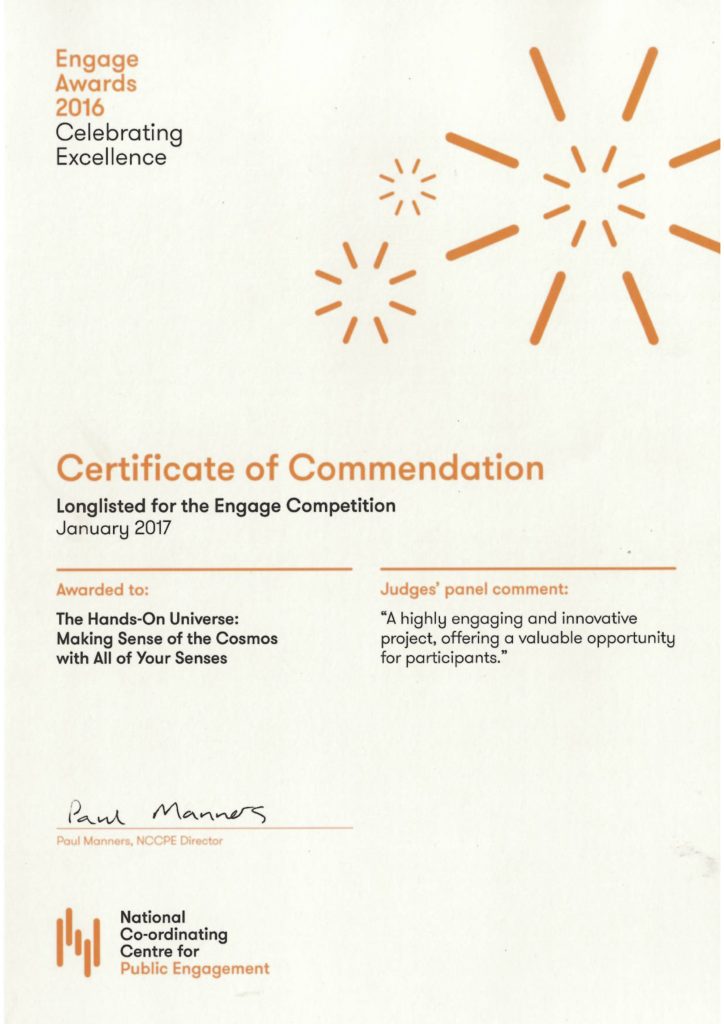 Feedback
"We were thrilled to host two g-Astronomy events as part of the Hebridean Dark Skies Festival, marking the project's debut in Scotland. Roberto is an enthusiastic and engaging host, a delight to work with, and g-Astronomy really captured the imagination of our audiences. Over the course of his weekend at the festival Roberto hosted a cosmic cocktails and canapes evening on Saturday at An Lanntair, and a Sunday evening meal at Uig Sands restaurant on the other side of the island, planning the menus along with the catering teams at both venues and then using the food and drink choices as a launchpad for a fascinating talk about the history of the Universe, spread throughout the evening as our audience enjoyed their food and drink, with lots of food for thought along the way. Both events were sold out and the feedback has all been immensely positive. We look forward to inviting Roberto back to the festival."
(Andrew Eaton-Lewis, programmer, Hebridean Dark Skies Festival)

"Thank you for your outstanding talk – it was one of the most engaging lectures I've seen for this age group and the audience were captivated" (Bhavika Jessani, Outreach Officer, Imperial College London).

"The talk definitely encouraged the girls to want to find out more about the planets and the solar system. They found the talk extremely interesting and it has generated lots of thought provoking questions" (Norland Place School Yr 5 and 6 teacher).

"g-ASTRONOMY is a brilliant idea – what a great way of engaging people in the science of both areas!" (g-ASTRONOMY event attendee).

"This was for me, in a way, life changing" (g-ASTRONOMY workshop for people with visual impairment participant).
Multisensory Cosmology
(In collaboration with computer-human interaction expert Prof Marianna Obrist and her team at SCHI Lab at the University of Sussex). For full details, see our paper:
Trotta, R., Hajas, D., Camargo-Molina, J. E., Cobden, R., Maggioni, E. and Obrist, M. (2020). 'Communicating cosmology with multisensory metaphorical experiences'. JCOM 19 (02), N01.
Much of our scientific knowledge is transmitted via intellectual means, based on abstract concepts and gained through reading and other mostly visual means. This modality of transmission can be hard to engage with on a dialogic basis, as well as on a more emotional level. This is especially true of astrophysics, where we are often dealing with ideas so far removed from the human scale that they are often hard to imagine. Grounding facts and abstract ideas in bodily experience becomes a helpful way of creating meaning and widening participation, especially amongst non-expert and under-served audiences.
We aim to design and deliver two novel multi-sensory immersive experiences, by using insights from research into multi-sensory perception and human-machine interaction in collaboration with Prof Obrist from U of Sussex.
We delivered a first pilot event at the London Science Museum Lates in Oct 2018. The video below gives you a flavour of how the "Dark Matter Multi-Sensory Experience" was received by the public.
g-ASTRONOMY: The Universe at the tip of your tongue
Our g-ASTRONOMY events:
Feb 16th, 2020: g-Astronomy at Uig Sands, Isle of Lewis
Feb 15th, 2020: Cosmic Cocktails and Canapés, An Lanntair, Isle of Lewis
March 14th, 2017: Event for people with sight loss, London
June 10th, 2016: Cheltenham Science Festival
May 7th, 2016: Imperial Festival
Dec 15th, 2015: "Principia" Lates, London Science Museum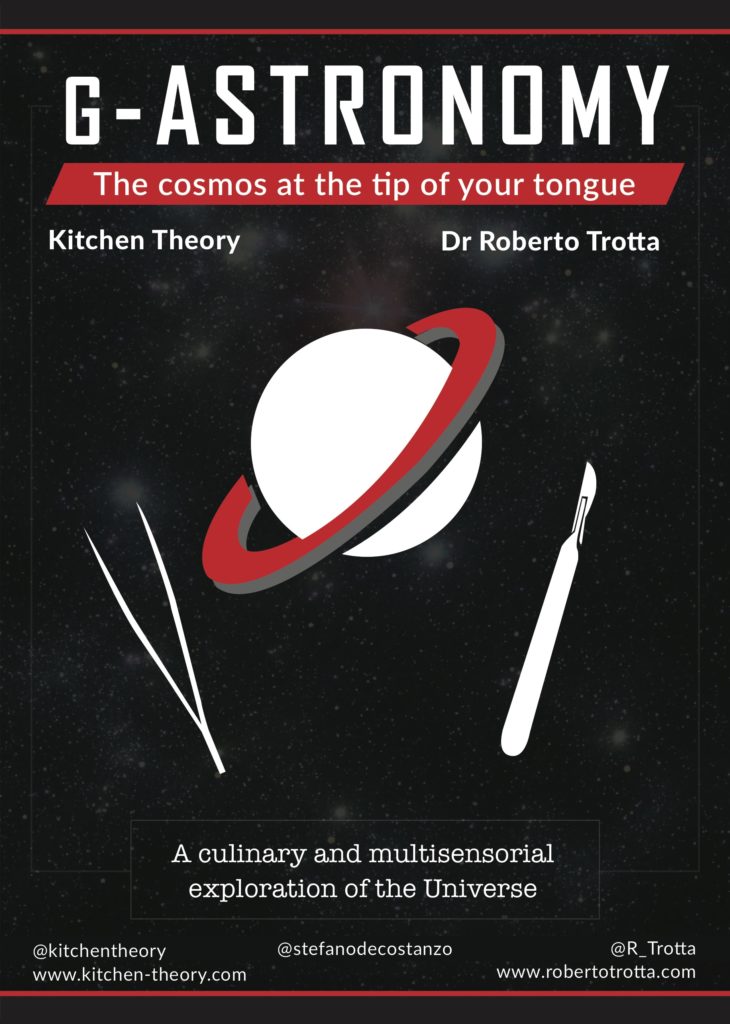 Astrophysicist Roberto Trotta joins efforts with molecular gastronomy chef Jozef Youssef and his team at Kitchen Theory to present an interactive culinary experience that translates complex astrophysics into an edible and educational experience for everybody.
Listen to "Out of this world cuisine": a Physics World podcast by James Dacey covering the g-Astronomy event at Cheltenham Science Festival 2016:
"Astronomy has always captured the public imagination thanks to its stunning images and the sense of wonder it can evoke. But concepts such as dark energy can feel quite abstract and there is a sense that astrophysics research is only done by people with giant brains and access to astronomically expensive equipment. This month's podcast profiles a new outreach project attempting to make cosmology more palatable – literally – by serving space-inspired canapés accompanied by a cosmology lecture."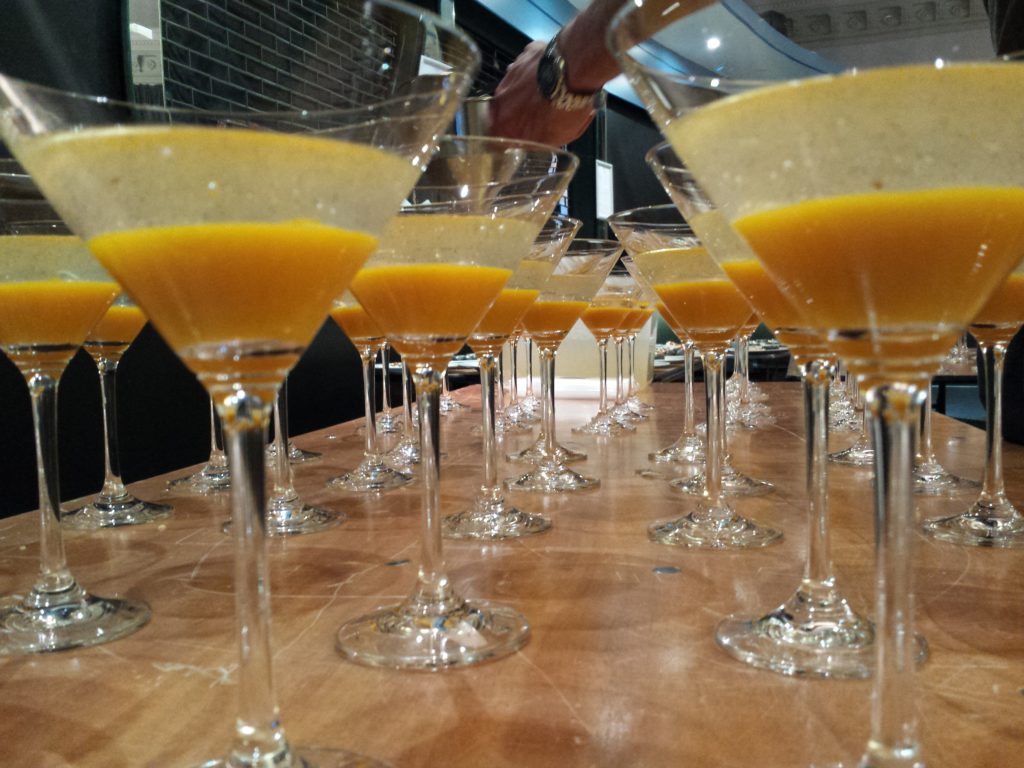 Supported by the Institute of Physics, and the Royal Astronomical Society, g-Astronomy is a groundbreaking outreach project that creates a immersive, multi-sensorial gastronomical experience to engage the public with some of the most fascinating questions of modern astrophysics and cosmology: the nature of dark matter; the properties of black holes; the origin of the Universe.
Fig-2 show: "All There Was", May 2015, ICA studio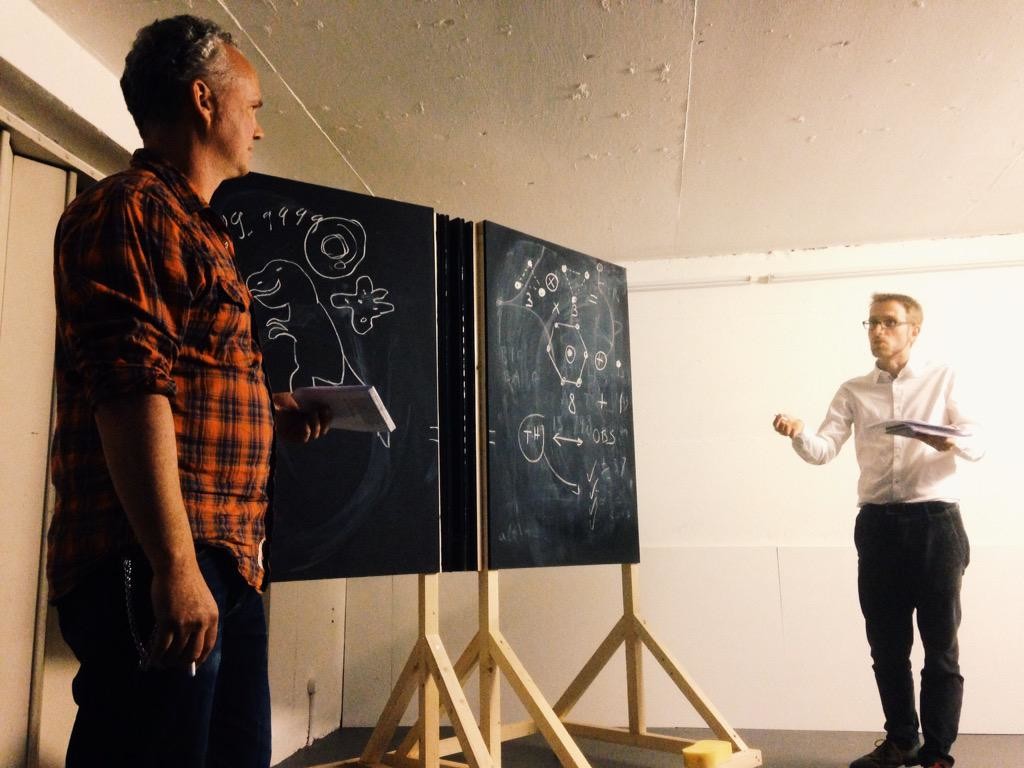 Artists David Cheeseman and Ole Hagen collaborate with astrophysicist Roberto Trotta for week 20 at fig-2. Their exhibition entitled 'All There Was' predicates a post-Newtonian orrery, concentrating on the depiction of the All-There-Is and its modelling. The exhibition builds its premises by looking into how we explore the cosmos – observationally and intellectually – and reflects on our understanding of it within the given parameters known to us. Basing its subject-matter on the dichotomy of presentation and the real, 'All There Was' is an aesthetic and intellectual speculation of post-Euclidean Geometry basing its forms on a reinterpretation of abstract concepts such as dark matter, dark energy. Cheeseman, Hagen and Trotta will highlight the transformation of fig-2 premises into a temporary laboratory of ideas, through their performative conversation on Monday evening that will speculate about the 'Big Picture', the grand scheme of the reality we reside in.
Read here some reflections on the show and event in the blog by Alix Mortimer
Follow us on Twitter
Hands-On Universe at the World Teach In
"The All-There-Is"
Winner of "Best Portrait of the Life of a Physicist" Award of the FQXi Video Competition 2014, by Lucina Melesio Friedman, featuring Roberto Trotta.
Moonberry Muffins at the Purple Kitchen
Past events
Cheltenham Science Festival, May 2016
Imperial Festival, London, May 2016
Early Year Education Centre, London, May 2016
St Mary, Jersey, April 2016
Royal Astronomical Society, London, March 2016
Daresbury Laboratory, Feb 2016
Guadalajara International Book Festival, Mexico, Nov 2015
Creative Quarter, South Kensington, Nov 2015
Royal Albert Hall, London, Nov 2015
Technopop Brixton, June 2015
Cheltenham Science Festival 2015
Fig2 show, Institute for Contemporary Art, London, May 2015
Imperial Festival, May 2015
Edinburgh International Science Festival, April 2015
Imperial College London, GCSE Astronomy students workshop, March 2015
Airware, San Francisco, March 2015
Royal Institution, London, Feb 2015
Imperial Fringe Festival, Dec 2014
Intech Planetarium, Winchester, Jan 2015
English Language Council lecture, Nov 2014
World Teach In, London, Nov 2014
Manchester Science Festival, Oct 2014
Technopop, London, Oct 2014
Commonwealth Club, San Francisco, Sept 2014
Town Hall Seattle, Sept 2014
Powell's bookstore, Portland OR, Oct 2014
The Observatory Astronomy Festival, Herstmonceaux, Sept 2014
Science for Fiction, Imperial, Aug 2014
Imperial Physics Dept open day, June 2014
I'm a Scientist, Get me out of here! June 2014 (winner)
Imperial Festival, May 2015
Norland Place school, London, May 2014
TEDx Hackney, Apr 2014
Oxford University Astronomy Weekend, Apr 2014
Bishop Challoner Catholic Collegiate School, London, March 2014
St. Joseph's Primary School, Holborn, March 2014
The Purple Kitchen, March 2014
Norland Place school, London, Feb 2014
Alleyn School, London, Jan 2014
Wimbledon High School, Dec 2013
The London Oratory School, Dec 2013
Royal Institution 14-10 Club, Dec 2013
Collaborators
Sam McKenney joined Imperial as a management trainee in 2010, co-founding the Dyson School of Design Engineering at Imperial in 2014. He works closely with Imperial College Advanced Hackspace, Outreach, Enterprise Lab and other student and staff organisations across College and the Student Union to enable creative projects.
Jing Sheng Pang is the strategy coordinator from Imperial College Advanced Hackspace and co-founder of Neuron Technology. A science and technology enthusiast, with a passion for invention and innovation, Jing enjoys working on concepts that can improve and save lives to make the world a better place.
Jozef Youssef 
is the creative mastermind and Chef Patron of
Kitchen Theory
, a London-based team focused on Multisensory Gastronomy Experience Design. Jozef is the author of the book 'Molecular Gastronomy at Home' and has published several academic papers related to the field of 'multisensory flavour perception' in peer reviewed journals. Kitchen Theory have extensive experience at hosting public and private dining events, participating in talks, lectures and festivals (including Cheltenham Science festival 2015) as well as working with academics and scientists to develop
culinary experiences based on complex neurological phenomena
. Their work has been recognised by all the major mainstream media (including the BBC, The Guardian, The Telegraph, The Financial Times and The New Yorker).
Stefano de Costanzo, Development Chef at Kitchen Theory, is part of the g-ASTRONOMY team in his role as Pastry Chef consultant. The Italian born chef brings passion and creativity as well as meticulous expertise to his desserts. Stefano's CV includes working with Locatelli, Ramsay Holdings and Four Seasons Park Lane.
Ole Hagen lives and works in London. Solo exhibitions/performances: I Got Life, performance, LUPA, London (2012), Holography for Beginners, The Horse Hospital, London (2010), That Is That, performance, The Barbican, London (2010). Exhibitions curated by the artist: Multiverse Expanded, Akershus Kunstsenter (2011), Multiverse, Danielle Arnaud (2009). Ole was awarded the BKH Art Photography Prize 2014, for moving image work at The Spring Exhibition, Fotogalleriet, Oslo (2014).
David Cheeseman is a practicing artist and senior lecturer in Fine Art at Birmingham City University. He is an interdisciplinary practitioner working within the disciplines of sculpture, installation and photography as part of the CFAR research group. He has been awarded the Gulbenkian Rome Scholarship in Sculpture and The Henry Moore Fellow in Sculpture at Coventry University. His current research interests are primarily concerned with exploring the relationship between truth and illusion with respect to the materiality and methodologies of science and (stage) magic. He recently completed a residency at The Lydney Park Estate in association with Matts Gallery London.
Partners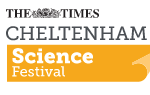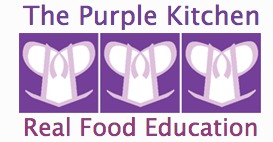 Supported by